The International Day of Mathematics (IDM) is a worldwide celebration. Each year on March 14 all countries will be invited to participate through activities for both students and the general public in schools, museums, libraries and other spaces.
Months
Days
Hours
Minutes
Seconds
Recent news
2022-12-22
We updated the
IDM logos
for Catalan, Greek, Macedonian, Mongolian, Russian and Ukrainian. New logos in Bulgarian and Kurdish!
2019-11-26
UNESCO proclaimed March 14 as the International Day of Mathematics on the 40th session of the General Conference on November 26, 2019.
March 14 is already celebrated in many countries as Pi Day because that date is written as 3/14 in some countries and the mathematical constant Pi is approximately 3.14.
The International Day of Mathematics is a project led by the International Mathematical Union with the support of numerous international and regional organizations.
Join the 2024 celebration
The best way to celebrate the IDM is to host your own event.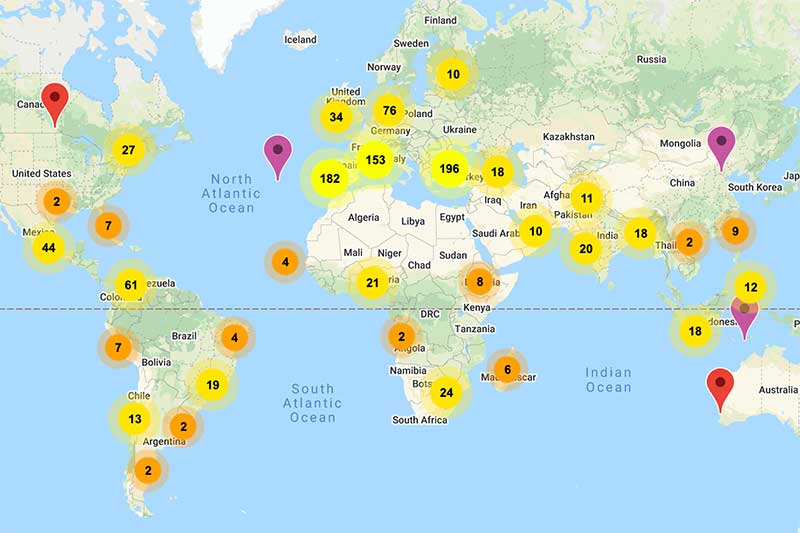 Publish it in our map
We'll help people in your town find out about your event.
Available a few months before IDM
During 2023 people and organizations all over the world announced events in their cities:
Keep in touch and receive updates and news about the International Day of Mathematics via email
You will only receive one or two emails per month at most. Your personal data won't be shared with any third party nor used for any other purposes, and you can unsubscribe at any time.
The theme for 2024: Playing with Math
Every year we announce a theme to flavor the celebration, spark creativity and bring light to connections between mathematics and all sorts of fields, concepts and ideas.
In 2024 we want to celebrate mathematical games, puzzles and other entertaining activities, but also "playing" with mathematics itself, exploring, experimenting, and discovering.
Play with the theme!
In some languages the verb play means other things, like "performing" and instrument, or "acting" in a theater.
What other ideas does the theme bring to people's minds in your language? You should consider them when planning activities for your celebration.
These are the official translations of the theme to different languages:
| | |
| --- | --- |
| English (US) | Playing with Math |
| English (UK) | Playing with Maths |
| Arabic | إلعب بواسطة الرياضيات |
| Chinese Simplified | 游于数 |
| Chinese Traditional | 遊於數 |
| French | Jouons avec les maths |
| German | Spiele mit Mathematik |
| Korean | 수학과 놀자 |
| Portuguese | Brincando com a matemática |
| Spanish | Jugando con las matemáticas |
| Turkish | Oyunla Matematik |
Creative worldwide challenges
Each year we invite you to participate in a creative challenge along with your class, family, friends, colleagues or community.